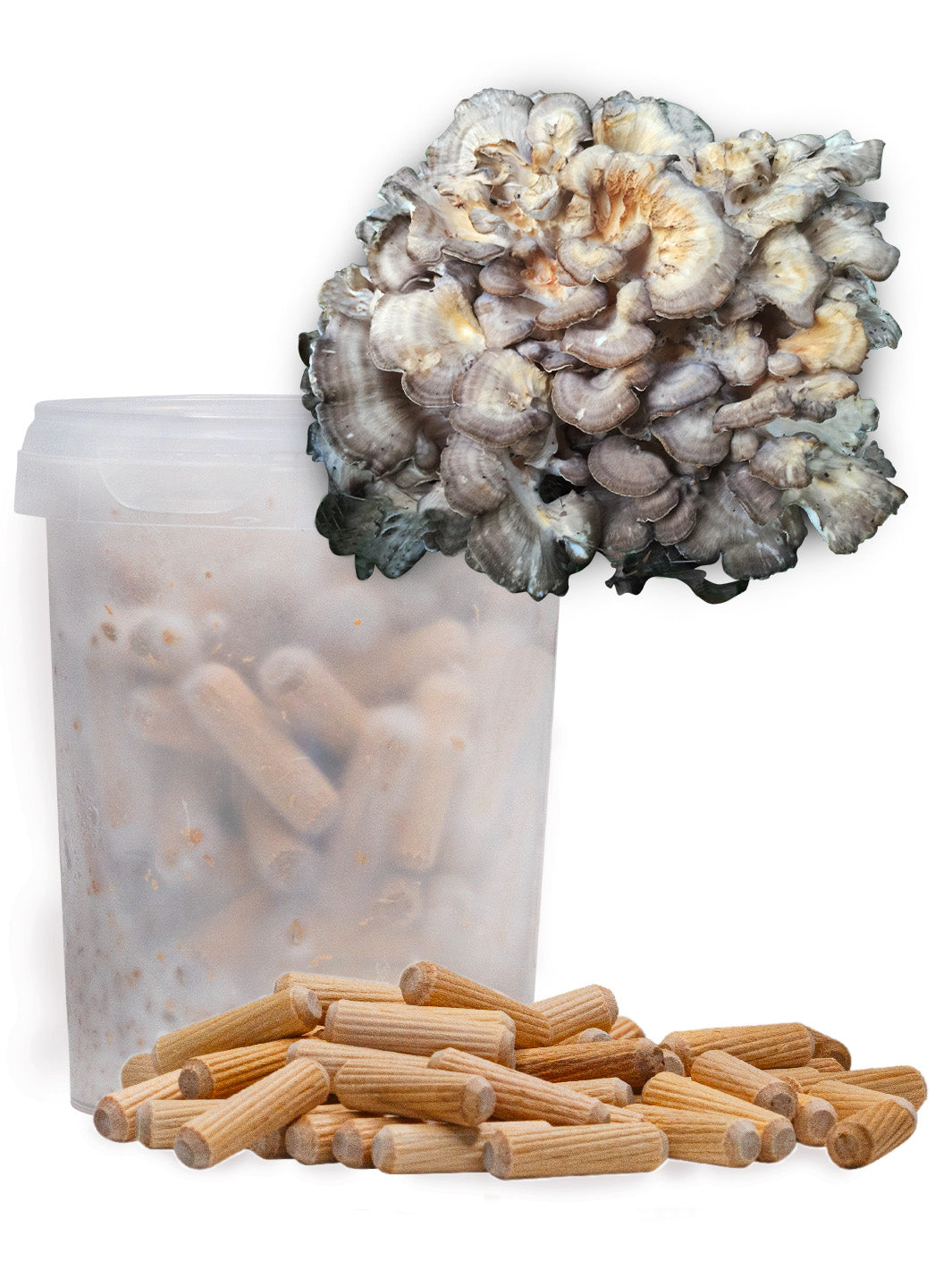 Hen of the woods (grifola frondosa= - Mycelium dowel
Regular price
kr159.00
/
Tax included.
Shipping
calculated at checkout.
---
Largest in Scandinavia in mushroom cultivation.
Orders before 11.00 are shipped the same day.
Free shipping on orders over SEK 1000
Safe and easy checkout by card or invoice
Questions? Call or email, we reply quickly!
---
Drill holes, insert dowels and seal with wax. The dowels are made of birch (8x30 mm) 100 dowels inoculates 3 meters of logs/stumps.
Hen of the woods is a rare and delicious mushroom. Note: Hen of the woods is an advanced mushroom and there is not a lot of experience from log cultivation. We think the best way is to inoculate stumps from old oaks, still with roots but logs can be inoculated and buried to 60% of their length to absorb water from the ground. Inoculated logs can be covered with plastic sheets and keept at room temperature for a few months for the mycelium to establish before burying outside. Soak the logs if necessary.
To grow mushrooms on logs/Stumps with mycelium dowels, you need an 8mm drill, beeswax and wax applicator. If you have it at home, great! If not, you can find it in our webshop.
Note that Hen of the woods is not a beginner mushroom and there are no proven methods for growing on logs. It is best to graft rooted stumps, but logs can be grafted and buried vertically to 60% to absorb soil moisture. Grafted logs can be stored in the dark in a plastic bag at room temperature for three months to allow the mycelium to establish before the logs are buried. Soak the logs if necessary to maintain the moisture content.

1. Choose fresh logs or stumps without damage to the bark.
2. Drill 4 cm deep holes with 8 mm diameter in a zigzag pattern with 10 cm between the holes.
3. Insert the mycelium dowels using a hammer.
4. Seal the holes with beeswax (included in the complete log growing kit and can be ordered
separately. You can find it under "accessories" in the shop)
5. Soak the logs for a couple of days or moisten well with a water sprinkler.
6. Bury the logs standing up so that only 15–20 cm stick out of the ground
7. Water as needed to maintain moisture content

Rooted stumps or buried logs of oak.
Note that it is best to use freshly felled wood/stumps of older oak.
Let the wood rest for a couple of weeks to allow the tree's resistance to fungal attack to decrease before
inoculation.
All orders placed before 11:00 a.m. are shipped the same day. We deliver with DHL, and deliveries usually take 2-3 working days. At hot temperatures in the summer that exceed 25 degrees, we wait to send products containing mycelium until the temperature has dropped. This is to protect mycelium, which is sensitive at too high temperatures.